2018 Xmas Package Prices are now available.
To express your interest in having your Xmas Function here please email: info@comedy.co.nz

CLASSIC XMAS PACKAGES 2018


DINNER & COMEDY EARLYBIRD PACKAGE - ENQUIRE HERE
BOOKED OUT. SHOW ONLY AVAILABLE.
Seasonal Buffet Dinner & Show Package from $65 per person 
(max 70 people | min 40 people)
Exclusive Seasonal Buffet Dinner followed by public Comedy Showcase $65 per person
-  Exclusive Seasonal Buffet between 6pm-7.30pm in the Main Venue available for groups of 40+
-  The public will join you for the Comedy Allstars Showcase starting at 7.45pm 
-  Our popular 2 hour Comedy Showcase featuring 4-5 of NZ's local favourite comedians
-  Opportunity during the dinner for the boss to say a few words or short prize giving 
-  Bar Tab available with credit card (strictly No BYO alcohol) 
-  The Classic is a licensed bar and all shows & packages are R18
-  Terms and conditions apply including deposit, behavioural bond and cancellation policy 
-  Minimum number required for exclusive dinner is 40 people. Surcharge applies where minimum not met.
Full details on this package - SAMPLE MENU  |  PACKAGE DETAILS
FRIDAYS XMAS XTRAVAGANZA PACKAGE - book on Eventfinda
AVAILABLE: Friday 30 November (selling fast!) 
Antipasto Platter & Xmas Show Package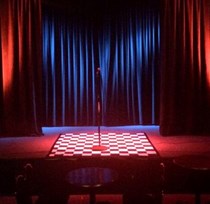 Table of 6 from $300* | Table of 10 from $500* 
(Min 6 people | Multiple tables may be purchased | *Book fees apply)
Xmas Xtravaganza Comedy Showcase and Antipasto Platter 
-  Fun casual Friday night package for 6+ people including antipasto platter
-  Arrival from 7pm for pre-show antipasto platters
-  Show from 7.30pm until late
-  Stand-up Comedy Showcase featuring 3-4 comedians followed by after show entertainment
-  Comedy, music, karaoke, comical quiz plus loads of fun and games. 
-  Tables seat approx 6-10 people in a cabaret style (chairs around tables)
-  Multiple tables can be purchased and seated together if under same booking name
-  Bar tab is available with credit card as security
-  The Classic is a licensed bar and all shows & packages are R18. No ID, no entry
Full details on this package -  PACKAGE DETAILS
THURSDAYS XMAS DINNER & SHOW PACKAGE - ENQUIRE HERE
AVAILABLE:   Thursday 06 / 13 December / 20 December
Xmas Buffet Dinner & Show Package
Maximum 70 people | Minimum 40 people | From $75 per person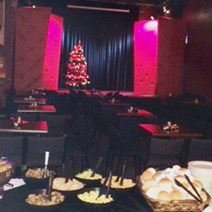 Exclusive Xmas Buffet Dinner followed by public Comedy Showcase $75 per person
-  Exclusive Xmas Buffet between 6pm-7.30pm in the Main Venue available for groups of 40+
-  The public will join you for the Xmas Comedy Showcase starting at 8pm
-  Our popular 2 hour Xmas Showcase featuring 4-5 of NZ's local favourite comedians
-  Opportunity during the dinner for the boss to say a few words
-  Bar Tab available with credit card (strictly No BYO alcohol)
-  The Classic is a licensed bar and all shows & packages are R18
-  Terms and conditions apply including deposit, behavioural bond and cancellation policy 
-  Minimum number required for exclusive dinner is 45 people. Surcharge applies where minimum not met.
Full details on this package - SAMPLE MENU  |  PACKAGE DETAILS
ALL INCLUSIVE PREMIUM HIRE PACKAGE - ENQUIRE HERE
Due to a full comedy programme the Private Hire Package will not be offered this season. 
If you have a group who insists on a private hire and can guarantee attendance and bar tab, contact us. 
The Premium Package Private Hire starts from $9000.

Not sure which package is right for you? 
Use our group guide below: 
Group of 6 - 35 people
Group of 40 - 70 people

How To Book: 
Please email your interest  - ENQUIRE HERE
We require estimated number of guests, preferred dates and company/person to invoice. 
Online sales for show only and Xmas Xtravaganza available on Eventfinda


Dinner Package Confirmations and Cancellations 
Bookings now open. Please contact us via email - ENQUIRE HERE
Pencilled bookings will be held for 7 days only.
Booking contract & $1000 deposit required to secure the date and comedians – 30 September 2018
Final catering choices, requests and numbers required – 01 November 2018
Final payment for the package is due 05 November 2018
CLUB RULES:
We understand this is your big night out and we love to accommodate a good time!
1. The Classic is a licensed bar. Strictly no BYO alcohol. Shows are R18. No ID, no entry.
2. Seating is primarily allocated. Ask the ushers if you need more seats or have special needs.
3. Drinking in moderation: It's a looong night, please pace yourself.
4. Intoxication: Stoned or drunk persons are legally not permitted on the premises and will be asked to leave.
5. No Heckling: The showcase features the best of NZ Pro-Comedy, we do ask for the enjoyment of everyone you limit your participation to laughter and applause which are both very welcome! Open mic night is on Mondays.
6. Chatty or Bored: If comedy isn't your thing, please move to the Front Bar where you can chat and socialise. Unfortunately, any disruptive and/or disorderly persons will be asked to leave to the show and not let back in. 
7. No photography or filming permitted during the show. Live in the moment - good times.
8. Cooperation and communication with the staff - they're here to keep you safe.
9. Don't be a dick! Everyone including the staff and comedians are here to have a good night.
We ask for your full cooperation to ensure the safety and enjoyment of all. - Thank you!

2018 Xmas Package Prices correct as of 01 August 2018. Subject to change without notice.
To express your interest in having your Xmas Function here please email: info@comedy.co.nz